About Us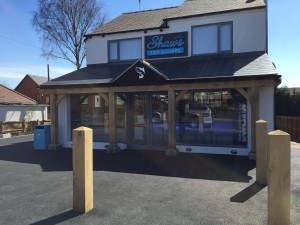 At Shaws of Dodworth, we have been proudly serving the people of Barnsley since 1979. In that time, one thing that we have always maintained is that the quality of the food that we produce has to be first class. We have proudly maintained that tradition and will continue to do so.
A lot has obviously changed over 30 plus years for us. Our shop in Dodworth, just at the end of the high street is one of the most modern fish and chip establishments around boasting state of the art technology that ensures that the product we serve to you is perfect. Day in,day out. In recognition we have been awarded several certificates including 5 starts from Food Standards Agency for hygiene.
At our new shop we now have seating inside and out. We also now sell fresh bean to cup Lavazza coffee, tea and chocolate. Plus local award winning Yummy Yorkshire Ice cream. Flavours: strawberry, vanilla, chocolate, dandelion & burdock, mint choc chip, blueberry, caramel fudge.
A Healthy Option?
Fish and chips are made entirely from natural constituents and are a great source of protein, iron, fibre and vitamins. They can provide a third of the daily recommended allowance of vitamins for men and nearly half for women.
Fat facts:
Properly cooked in vegetable oil, a standard portion of battered fish contains just less than 10% fat (only 5% saturated and trans fat combined) and traditional chips contain 9% fat (only 4.5% saturated and trans fats) Conclusion: Compared with other take-away foods, fish and chips are significantly lower in fat content.
Recent research by Sea Fish Industry Authority (Seafish) shows that a battered piece of Cod has 9.8g of fat per 100g and traditional chips have 9.0g per 100g. This can be compared with 14.8g per 100g for a High Street chain Burger, 16.2 g per 100g for a Doner Kebab with Pita & Salad or Chinese style Crispy Duck which is 24.2g per 100g.
Calorie Facts:
Fish and chips have around a third less calories than other popular take-away meals and represent only 30% of a female adult's recommended daily intake and less than 25% of a male's.